Host
Pat Bullard
Co-stars
Denise Pidgeon as "Lovely Cindy"
Lou Pitoscia as "Big Mack"
Broadcast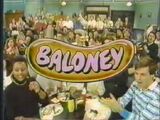 CBC: 1988-1989
Baloney was a game show set in a delicatessen, and is often considered as a rip-off of To Tell the Truth.
In this rip-off of To Tell the Truth, three people were introduced, labeled A, B, and C, respectively. Each subject had a story; one of them was true, while the other two were false (on this show, they were reffered to as "Baloney", hence the name of the show).
After the three stories were told, the 100 audience members (sitting at eatery-like tables on the set) determined who they thought had the correct story by turning a knob. Once the votes were tallied, Cindy or Mack would cover the false stories with a "slab of Baloney" (really a card with the show's logo on it). The audience members who chose the correct story would divide $1,000.
Each show featured three games.
Community content is available under
CC-BY-SA
unless otherwise noted.