Host
Adam Growe
Broadcast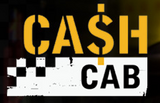 Discovery Channel Canada: 9/10/08 – Present
Cash Cab is a Canadian-English adaptation of the British game show of the same name which in turn was based on the Canadian-French adaptation called Taxi Payant. Unsuspecting passengers get a chance to win money by correctly answering a series of general knowledge or trivia questions on the way to their destination.
Gameplay
[
]
The Canadian version closely mirrors the structure of its U.S. counterpart, retaining the familiar "Shout Outs", "Red Light Challenges" and the "Double or Nothing" video bonus option at the end of each game. However, the Canadian version differs in its heavier focus on questions of Science, Technology, Nature and Adventure. (as opposed to purely general knowledge). Regular questions are worth $25, $50 and $100; while "Red Light Challenge" questions are worth $75. In the second season, a third "Life Line" was added when contestants reach the $100 question, they can "swap out" a question, and the Cash Cab dispatcher will give them a new question.
In the Cash Cab Vancouver season, the bridge bonus was added, which doubles the score for the current question once per session. After returning to Toronto, a high five bonus was added, which double the score for the fifth correct answer in a row.
The Canadian Cash Cab uses high definition cameras: five different angles within the cab, two mounted on the roof and one mobile camera that records on the street or from the follow van. It is also the first Cash Cab format to be taped and broadcast in high definition. The first two seasons were filmed in downtown Toronto. The cab itself is a Toyota Sienna.
Trivia
[
]
Following the success of the first season, Host Adam Growe was invited to host a special season premiere episode of the U.S. version on December 23, 2008, which promoted the feature film at the time Frost/Nixon.
In the Summer of 2009, Cash Cab was broadcast in a programming block with Qubit.
On July 16, 2011, a 61 year old man from Surrey, British Colombia was struck and killed in downtown Vancouver by a vehicle used for the Canadian version of Cash Cab. The incident happened while the producers was driving the cab back to the storage facility after filming.
See Also
[
]
Link
[
]