Host
Joseph "Joe" Motiki
Broadcast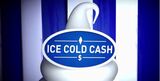 Food Network Canada: 2/10/2012 – 6/6/2012
Packagers
Architect Films
Ice Cold Cash was a short-lived fun and fast-paced food-based trivia that whipped up the contestants' brains and tenderize their funny bones.
Premise
[
]
Host Joseph Motiki would dress as an ice cream seller and pedal around an ice cream cart. The general public would approach the cart as if to get ice cream or a frozen treat, only to be told he had nothing in stock. Motiki would explain that he only had cash as well that there were ten food, drink, and culinary related questions. The first question was for $10 and every question thereafter doubled the value, for a maximum of $5,120. When contestants reached $160, they couldn't leave with anything less.
There were two segments in the show. The first one was where people were asked if they knew what kitchen gadget they were holding wais and the correct response earned them $20. A second segment was a game of charades where one person would act out the item given to them to by Motiki.
Trivia
[
]
The ice cream cart was built by Great Lake Scenic Studios.
Link
[
]