We're Getting Mutants in the MCU - The Loop
Play Sound
Host
Eric Boardman
Announcers
Bill Armstrong (1988)
Ted Friend (1989)
Broadcast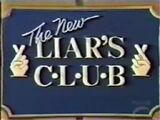 Syndication/Global: 1988-1989
Packagers
Four Star Productions
Golden West Productions
Northstar Productions
Blair Murdoch Productions, Inc.
The New Liar's Club was the game show where a celebrity panel analyzed weird & unusual objects. This was the second revival of the 1969 and 1976-1979 American series hosted by Rod Serling, Bill Armstrong and Allen Ludden respectively.
Gameplay
[
]
The show featured a panel of four celebrity guests, who would be presented with an unusual object; each would give a ridiculous explanation of what the object was used for. Four contestants would guess which star was telling the true story. In addition to making their guesses, the contestants placed bets on the star they thought told the truth. They started at 100 points at the beginning of the game and were allowed to bet 10 to 100 points, up to half their score.
The Odds
[
]
The odds increase for each round:
Round 1 - 1-1
Round 2 - 2-1
Round 3 - 5-1
Round 4 - 10-1
The Liar's Club Gallery/The Art Corner
[
]
This was always the last round of the game in which artwork was presented before the panel and contestants. Each celebrity would each offer their own title for the art. Each player would then make one last wager on which star gave the right title. Correct answers from the contestants won the wager at a 10-1 payoff. Later episodes waived the half-score betting limit.
---
The player with the highest score won the game and a bonus prize, with an additional awards to any contestant who made correct bet in all 4 rounds. If there was a tie, the player who bet the most in the final round wins. If there was still a tie, the player who got the most right throughout the game wins. If there was still a tie, whoever came closest to their pregame score selection without going over wins.
In 1991, a Canadian game show called The Next Line, hosted by Kevin Frank, was produced. It had many similarities to The New Liar's Club: both shows were taped at the same studio, and both used the same props with a few changes. The rules were very similar to Liar's Club in terms of the game and scoring, but players had to determine which celebrity was giving the correct next line from an interrupted video clip or song. Like The New Liar's Club, the show was produced by Blair Murdoch and featured Pete Barbutti as a regular panelist.
Music
[
]
Gary Peterson
Links
[
]
Rules for the old Liar's Club
Screengrabs of The New Liar's Club