Host
Jean-Francois Mercier
Broadcast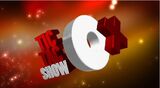 V: 9/18/2013-present
Tic Tac Show is a French-Canadian revival and remake of late 1970s game show Tic Tac Toc which in turn was based on the American format called Hollywood Squares.
Main Game
Edit
Like it's American counterpart Hollywood Squares, two contestants (with "X" represented by a male contestant while "O" was represented by a female contestant) have to get three stars in a row either across, up and down or diagonally by correctly agreeing or disagreeing with the celebrities answers. Three games are played each show. The values were $150 for the first game, $300 for the second game, and $500 for the third game. The second game also featured a "secret square". The first player to choose that square must then be correct on that same turn in order to win a bonus prize. Any player who won all three games won another $50 for a total of $1,000.
Bonus Game: Tic Tac Lot
Edit
The winner of the most cash played Tic Tac Lot. Three of the celebrities held strikes in their envelopes. If the player could choose the other six celebrities without getting three strikes, the player won a bonus prize.